High Performance Coating Systems for Asphalt & Concrete Pavement

Ensure quality results and enduring beauty for your projects by selecting Ethos Enterprises pavement coatings.  Our StreetBond line of pavement coatings can transform pavement with color and increase solar reflectivity, while also serving to revitalize, rejuvenate and extend pavement life.
Parking Lot Solution
Our pavement coatings help reduce your total cost of ownership by making every maintenance dollar stretch, and decreasing the cycle of recoating needed on your property's paved surfaces. We offer a complete solution for every level of use: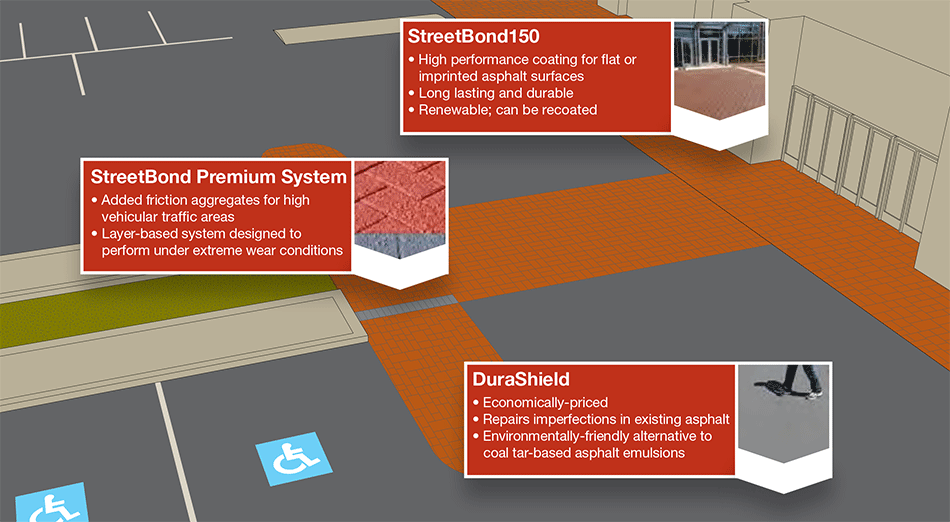 Creative Design Capabilities
Transform Shared Spaces:
Streetscapes and Pedestrian Use Areas
StreetBond coatings provide potential to transform
Pedestrian Spaces
Crosswalks, Cycle Lanes, and Bus Lanes
Urban renewal/ New Urbanism projects
Plazas & Community areas
Playgrounds
Residential Driveways
Innovative Streetscape and Hardscape Designs:
Imprinted Asphalt
StreetBond Coatings are designed to work seamlessly with and provide the ultimate protective coating for imprinted asphalt projects. When protected with StreetBond coatings, the imprinted surface has low maintenance requirements and lower maintenance costs than other decorative surfaces.
Use StreetBond coatings with StreetPrint equipment and wide selection of patterns and custom designed templates to deliver a project that is unique, functional and beautiful. Learn more about the StreetPrint imprinting process.